As an Oakville resident, a walk in tub will enable you to bathe in comfort and safety, despite physical limitations and limited mobility. Safe Bathing Canada offers walk in tubs that allow easy, safe access that allows you to step over a low threshold, rather than having to climb over a high bath rim. After closing the watertight door behind you, you can safely seat yourself in the tub.
A safety tub from Safe Bathing Canada in Oakville, Ontario can help you stay in your home longer by providing you with more independence to enjoy baths in your own time. This should allow you and your family to spend more quality time together, while providing you with the endless convenience and health benefits of regular soaks in the tub, including:
pain relief, especially in the muscles and joints


relaxation and relief of stress, anxiety and depression
Additionally, some of the walk-in tubs offer aromatherapy, chromotherapy and hydrotherapy features to further enhance the effects of a relaxing soak. Some of the standard features of the safety tubs we offer to Oakville residents include:
extendable shower heads
user-friendly locking handles
slip resistant floors
non-skid seats
grab bars
soft-touch electronic controls
and more.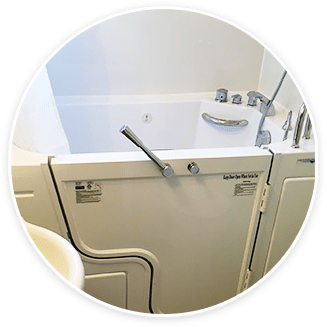 Heated seats and fast-drainage systems make it easier to stay warm on colder days. A range of door configuration options (left, right, in, out or slide up) make it easier to find the perfect safety tub for your requirements. Oakville residents who are in wheelchairs or who have larger frames usually prefer doors that slide away. This option is also useful in smaller bathrooms.
Oakville Safety Tubs from Safe Bathing Canada
Here at Safe Bathing Canada, we want our Oakville residents to be ecstatic about their walk-in tubs. That's why we commit to providing quality services via our team of knowledgeable, helpful and expertly trained consultants and manufacturer trained installers.
Call us today at 1-844-400-SAFE(7233) to book a free in-house consultation, expert guidance and to find out how you can own your own walk-in tub from as little as $5 a day.
FREE Information Kit
Send your contact info and mailing address for your information kit